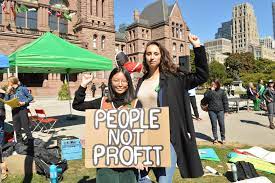 Report by Brian Champ.
On Friday September 23rd the Fridays for Future Global Climate Strike continued mass action on the streets around the world to demand action for climate justice under the banner #PeopleNotProfit.
At the forefront of these actions, there were 20,000 on the streets of Berlin, Germany; 15,000 in Montreal, Quebec; 10,000 in Seoul, South Korea; 5,000 in Rome, Italy. There were actions in India, New Zealand and over 450 locations around the world. 400 rallied in Kinshasa in the Democratic Republic of the Congo and in Kampala, Uganda protesters focused on the need to stop the East African Crude Oil Pipeline (EACOP), a joint project by the French oil giant Total and the China National Offshore Oil Corporation that will run through a region already facing disastrous drought conditions.
This is the second global climate strike that has been organized under the banner of #PeopleNotProfit – the first was March 25th of this year that had strong actions in many places around the world. This follows the huge Global Day for Climate Justice on November 6 last year during the COP26 meetings in Glasgow that failed to even commit to ending coal burning.
This is in the context of the deepening climate crisis, intertwined with the global pandemic, economic crisis amid rising costs and the context of global conflict.
The number of people in acute need of food has increased more than four times since 2017. In Ethiopia, Kenya and Somalia, the changing climate has caused the failure of the annual seasonal rains crucial for agriculture for the fifth consecutive year. The Russian invasion of the Ukraine, and the sanctions imposed by the west have slowed the shipments of desperately needed food to the region. Higher oil prices have seen profits soar for oil company executives, literally taking food out of the mouths of some of the poorest people on the planet.
In Pakistan, catastrophic floods this summer caused by the combination of high temperatures melting glaciers and extreme monsoon rains submerged one third of the country, killing around 1,500 and displacing 33 million people. Crops have been destroyed and 700,000 livestock have been lost.
The devastation caused by Hurricane Fiona as it ravaged Puerto Rico, the Dominican Republic and the Bahamas before striking the Atlantic provinces of Canada, and of Hurricane Ian that has struck Cuba and Florida have dominated news coverage. But the Philippines Island of Luzon was just hit by Super Typhoon Noru/Karding that was marked by explosive intensification in 24 hours, displacing over 40,000 people and causing widespread damage before slamming into Vietnam, causing floods and landslides.
Another disastrous storm system, Typhoon Mebok formed in waters far to the east of Japan that are the warmest on record for 100 years, moving north into the Bering sea and impacting many coastal regions of Alaska and the Aleutian archipegalo. The worst storm in over 50 years had a particular impact on the coasts, destroying protective sea barriers and inundating freshwater reservoirs impacting many Indigenous communities getting ready for the winter.
Wildfires are burning on just about every continent; water crises continue to expand with the shocking images of major rivers that no longer drain into the sea.
In my home town of Toronto, the day marked a return to in person action in the city where pandemic conditions have curtailed activity over the past few years, with over 3,000 participating in a rally highlighting the politics of climate justice followed by a spirited march through the centre of the city. The Fridays for Future Toronto led event brought together a coalition of environmental groups, union and labour bodies, student organizations, NGOs and social justice groups highlighting the need for urgent actions by governments and industries to reduce emissions while leaving no community or worker behind.
The rally in Toronto highlighted the issues of climate justice by calling for a halt to continued expansion of fossil fuel projects, respect for Indigenous sovereignty, demands for a Just Transition for communities and workers and the expansion of green jobs in public services. During the pandemic period governments at all levels in Canada have attacked all these constituencies and as things have opened up, there is a growing mood for resistance that is tempered by concerns for the ongoing public health issues related to the ongoing pandemic.
Networks that had mobilized for the fantastic climate strikes in September of 2019 and made the shift to supporting and participating in the Indigenous led #ShutDownCanada movement of early 2020 have begun mobilizing again, spurred on by renewed layers of youth some of who have now had their first taste of action. These actions don't yet approach the fantastic Just Stop Oil occupation of Westminster in London, UK that started on October 1st and vows to continue until the Tory government cancels new oil projects. We have organizing to do to build to the level of resistance there, which included mass rail, mail and other strikes across the UK on the same day along with 50 Enough is Enough rallies that support the striking workers. Strikes are occuring across Canada by workers struggling to keep their heads above water with rising costs and stagnating wages, and fightbacks are building to protect public healthcare and other services that are under attack by opportunistic provincial governments.
Revitalizing the broad fightback against pipeline projects like the CGL pipeline is an urgent task, as highlighted by a number of speakers at the Toronto Global Climate Strike rally. Vanessa Gray, a queer Anishinaabe water protector, environmental researcher and community organizer in the Great Lakes region read a message from Wet'suwet'en land defenders on the front line: "September 30th, it's supposed to be the National Day of Truth and Reconciliation, yet at this very moment oil and gas projects and pipelines are being built on unceded Indigenous land in our name. … for the past six months, a special unit [C-IRG] of the RCMP has been continuously and in a discriminatory way stopping and arresting Wet'suwet'en people whose only interest is to protect their land title that is recognized by a 1997 ruling by the supreme court of Canada. Go to their website, yintahaccess.com, Follow their social media accounts … Take action and rise up to the call to #KilltheDrill and plan for actions where you are."
Layla Staats, who is a Mohawk woman, Turtle Clan from the Six Nations of the Grand River who has focused on Indigenous water issues, including decades of unsafe water on First Nations reserves, joined land defenders on Wet'suwet'en land last November to stop CGL from drilling under the Wedzin Kwa river. She was one of 32 violently arrested by the RCMP. While facing the wall of hundreds of militarized police she sang the Mohawk Water Song, which she performed for the rally along with her daughters. She shared here experience at this still pristine river: "I put my hands in the river and I put it to my lips and I could feel it was alive. It was electric, it tingled on my tongue and I knew in that moment this is how water was meant to be. My river at home, the Grand River, I won't let my children swim in it. I would definitely never let them drink from it."
She also shared her hopes: "I don't trust our politicians or our governments to save the earth. It's not going to come from the top, it's going to come from the ground up. And so these moments of resistance, these moments of fighting back, of using our voices, of unifying together, they matter. They matter to us. They matter to the people and the people are the ones who are going to save this planet. Who's with me?"
Jinkie David also spoke to the rally as a member of CUPE Local 4948 representing Toronto Library Workers and treasurer of the Toronto and York Region Labour council. She spoke about the global justice issues spoke about the Just Transition:
"Climate disaster is rapidly increasing and it is hurting working peoples. Unions have taken a simple stance: there are no jobs on a dead planet. Unions have a role to protect jobs in the current industries. But we also have a role in fighting to create new jobs. We support new quality jobs in this emerging green economy. We know that there are jobs and we know that there's an opportunity to create a million good unionized jobs across Canada for young people, for Indigenous people and for equity seeking groups."
She added inspired by the youth in attendance: "This is what I saw in 2019 and it was so inspiring. My little girl was so much younger, and what she will tell you is that there is no planet B. And knowing that you guys have thrived and you continue to grow your movement is so friggin' inspiring."
There was an energizing performance by Mark Clennon, a Jamaican LGBTQ+ activist and singer and a Toronto based singer, Ahsan, orginally from Pakistan, who highlighted the humanitarian and climate disaster that has devastated that country and displaced 33 million people. He sang a song in Urdu with an ecological message: "what things you crave –  all nature is your fellow creature."
There will be further actions this Fall building on the openings provided by the burgeoning networks committed to climate justice, including opportunities to expose global leaders for their ineffectiveness to address the climate crisis during the COP27 meetings in Sharm-al-Sheik Egypt – meetings that will occur under dictatorship with little chance of real protest action. Another mobilizing opportunity will be in Montreal in December when the Biodiversity COP15 meetings could afford the opportunity to build important connections between English Canada and Quebec along with links to the US movements.
And drawing inspiration from the Just Stop Oil movement in the UK to revitalize the #ShutDownCanada rail, port and road blockade movement against fossil fuel infrastructure development and support for Indigenous sovereignty is a key imperative. This energy from below can inspire further action to oppose new oil projects like the Bay Du Nord offshore oil platform, possible reopening of LNG east projects to deliver fossil fuel energy to Europe and the ill-conceived wind power based Hydogren energy deal signed with Germany.
Disclaimer: Opinions expressed in articles are the author's and do not necessarily reflect the views of other members of the Global Ecosocialist Network