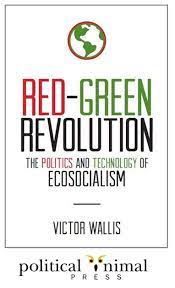 GEN is pleased to announce the publication by political Animal Press of a new edition of 'Red-Green Revolution: The Politics and Technology of Ecosocialism,' by our member Victor Wallis.
'Red-Green Revolution' has found considerable readership since its first release. The new edition includes a new Preface, updated references, and an Epilogue in which the author discusses the transformative developments that have occurred since 2018.
Red-Green Revolution is a comprehensive introduction to ecosocialism. Moving from an overview of capital's relationship to the environment and a critique of "green capitalism," to a discussion of the divisions within the socialist and environmental movements, Victor Wallis shows how a class-based analysis of technology and society can reshape our relationship with the natural environment.
Confronting the planetary emergency brought about by accelerated ecological devastation in the last half-century, Wallis argues that sound ecological policy requires a socialist framework based on democratic participation and examines how such a framework can materialize as popular struggles converge under conditions of crisis.
Victor Wallis is a distinguished political scientist, scholar and activist. He is professor of Liberal Arts at the Berklee College of Music. He was for twenty years the managing editor of Socialism and Democracy and has been writing on ecological issues since the early 1990s. His writings have appeared in journals such as Monthly Review and New Political Science, and have been translated into thirteen languages.
For more information contact:
Lewis Slawsky
Acquisitions Editor | Political Animal Press
647-559-9155 | lewis@politicalanimalpress.com
Disclaimer: Opinions expressed in articles are the author's and do not necessarily reflect the views of other members of the Global Ecosocialist Network