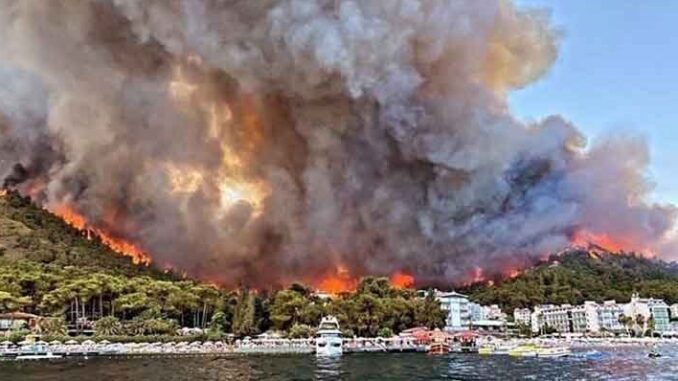 GEN member, Memet Uludag, has visited the scene of recent fires  in Turkey and reports on the terrible devastation. He analyses the direct link to climate change and calls for resistance.
Nearly a month after the massive forest fires in Turkey I have visited the region where they occurred (Marmaris) in south western Turkey. Nothing could have prepared me for the size of the forest destroyed  and the scale of devastation, not just to trees and wildlife but also to people of the region that earn their living from farming, beekeeping and tourism.
Marmaris, although known as a mass tourism destination for international travellers and an ever expanding concrete jungle, is surrounded by some of the country's biggest forests and natural parks with a diverse ecosystem.
High mountains covered in forest reach to the Mediterranean shores. Small villages produce some of the best types of honey (pine honey) organically produced by a specific species of bees.
The forest fires covering a huge area have devastated this region. Many villagers, bee keepers have lost their homes, their bees and lands.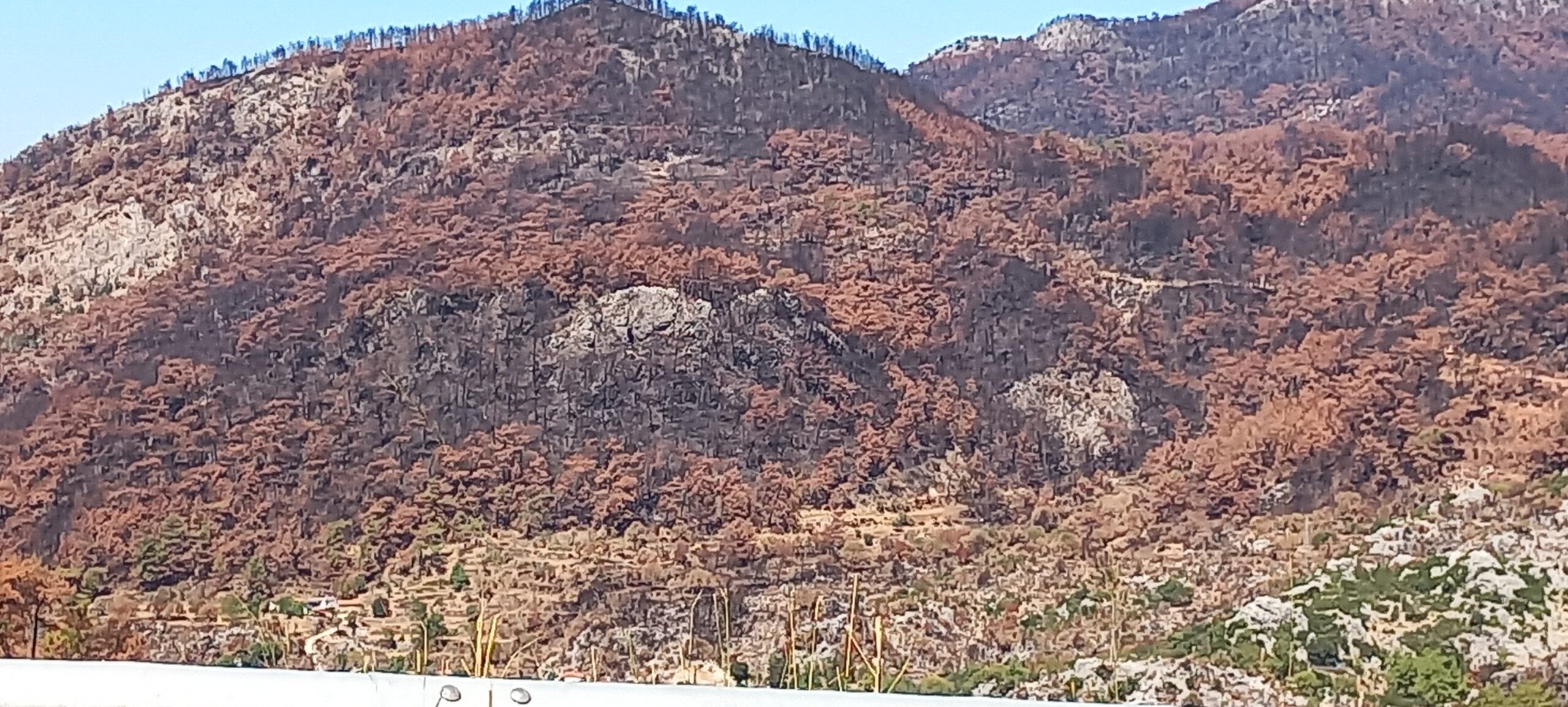 The fires lasted a number of days with more starting in an out-of-control fashion. It wasn't careless campers or farmers trying to clear out forest for more farm land that caused these. The news channels and the government had to admit in the end: it was climate change related abnormal temperatures that cooked the soil to the point of igniting fires. During those days temperatures were unusually high. "It has been happening for some time now", said a local villager I spoke to. "The weather is strange these past few years", he complained. During the same time the northern parts of the country,  in the Black Sea region, were seeing abnormal levels of rain that caused deadly floods destroying cities and villages. More than 200 people have lost their lives. Many became homeless; they have lost their small businesses.
For the victims of forest fires and floods, climate change and its consequences are not an academic discussion anymore. They paid a huge price and fear that this is just the beginning of what might come in the years ahead.
The problem we are facing today is political. No one denies, not even the government, that climate change is real and is happening fast. But like in other countries, climate change denial has been replaced with lip service that ignores taking real and meaningful action.
During the same weeks Greek Islands, some only a few miles off the Turkish shores were on fire too. People had to be evacuated by boats. It seems the Turkish farmers and Greek islanders were united in their suffering. Will they unite in putting pressure on their respective governments to stop climate change? It is not easy for people living through such disasters to get organised and build campaigns. A life or death situation, trying to save your life and your livelihood, or trying to rebuild your life is not a great place to be for getting organised and building campaigns. But we have time and we must get organised. The destiny of Northern or Southern Turks, or the Greek Islanders can't be trying forever to survive from one disaster to another.
The CO2 emissions from the recent forest fires were equivalent to Turkey's annual reduction on industrial emissions, scientists estimated. Not only did we lose vast forest land but we have suddenly emitted massive amounts carbon from the burning trees. A vicious circle, that is.
Climate change and related disasters won't bring the sudden end of our world but will increasingly turn our lives to hell. We have time, we must use this time to build massive people power based movements that force the governments to act. But that's not the full story. There are systematic issues that need to be tackled in order to stop climate change. The governments, including the Turkish government, know the dangers of climate change but they are deeply committed to the system that causes it: Capitalism. That's why the anti-capitalist demand 'change the system' becomes the most essential part of the climate struggle.
The EU/Greek Government and the Turkish Government are interlocked in a diplomatic crisis on oil and gas exploration rights in the Mediterranean and the Aegean Sea. Meanwhile species of fish, not natural to these parts are invading these seas and destroying the local fish species. This will be disastrous for local fishing communities. Scientist tracking this invasive fish migration from as far as the Indian Ocean have identified the cause: climate change and rising sea temperatures. It seems not only the Turkish farmers and Greek Islanders but the fishing communities on both side of the water have a common problem that unites them.
As I was approaching the town of Yatağan, 150 KM from the forests of Marmaris, the Turkish state radio channel repeated a government announcement that's been running for a while. It talks about climate change and warns us about forest fires. Yatağan is known for its Power Station. Yatağan Power Station is a coal-fired power station. It consumes 5.4 million tons of low efficiency coal and can produce 3,780 GWh annually, the least productive power station in Turkey.
The large scale of forest fires have had a serious impact on the biodiversity of the region. Millions of insects, birds and wild animals have been killed. This, says the farmer I spoke to, will have long lasting negative impact on the region.
I travelled for hours on narrow mountain roads. The endlessness of the devastation was scary. These forests were here since the Roman times, even before. It took one excessively hot season and two weeks to burn them all. Forest fires do happen but the frequency and enormity of these leaves no doubt about their cause. Recent fires in Canada, Australia, Turkey, Greece, the Amazon can't be a coincidence.
The system is burning our forests.
We must change it, we must change the system based on profit and exploitation of humans and our ecosystem.
Global COP26 mobilisations give us an important platform to build local and international movements. We must seize the moment and build mass people power based campaigns everywhere that unite people across borders
Disclaimer: Opinions expressed in articles are the author's and do not necessarily reflect the views of other members of the Global Ecosocialist Network