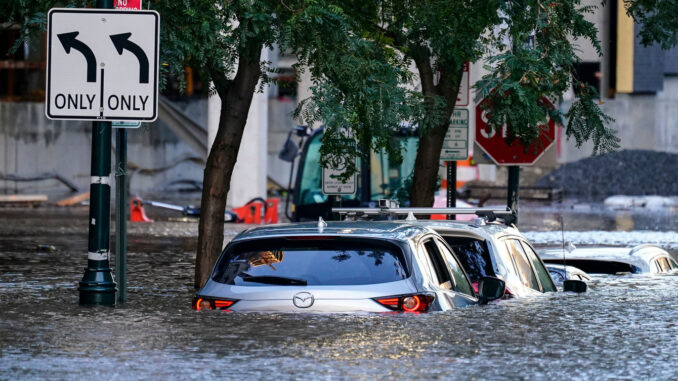 As the death toll reaches 65 Eric Fretz reports on the impact of Hurricane Ida on the US eastern seaboard and its link to the system.
This  article first appeared on the Marx 21 website https://marx21us.org/2021/09/03/hurricane-capitalism/?fbclid=IwAR2Ajq4aREA_oOdRzCb9LkXGfO5zH39u_rKzpTqGY1pwn4HbAE1kTFYjeDY
Again and Again under capitalism, we have seen poorer people disproportionately hit by the deadly effects of events like cyclones and earthquakes, as natural disasters highlight existing unnatural inequalities. It is now obvious that not just the effects, but the causes of extreme weather are stemming from capitalism.
The recent IPCC report proved that higher air and sea temperatures caused by global warming have already led to more hurricanes, and will continue to do so. "In the past seventy years," Bill McKibben noted, "the United States has averaged three land-falling storms a year; Ida is the seventeenth in the past two years."
But warming also leads to a "rapid intensification" of storms. Ida turned into a hurricane in just six hours.
When Ida hit the Louisiana coast Sunday as a Category 4 hurricane with winds up to 150 mph, it was the second most powerful storm to hit the state in its recorded history.
Devastation 
Over 1 million homes and businesses in Louisiana and Mississippi are without power, including the entire city of New Orleans, parts of which may remain without electricity for weeks.
Sewage pumping stations in New Orleans, which have no backup power, stopped working, leaving 441,000 people in 17 parishes with no clean drinking water, and no water to flush toilets. Another 329,000 people were under boil water advisories. However, it may be hard for many to boil water without electricity.
Added to this misery was a heat advisory which combined with humidity to reach real feel temperatures of over a hundred degrees
Tens of thousands of residents were left to themselves in figuring out how to evacuate, and even those with cars were at a standstill on choked highways.
In a chilling reminder of the horrors of Katrina, the New Orleans Police Department announced that "anti-looting patrols" would be set up.  The mayor then used the resulting arrests to justify a curfew and calling in the National Guard—not to rescue people or rebuild, but to patrol the streets.
As in Katrina, it is poor and black people who are most at risk of losing their homes—and their lives.
Ida came one year after Hurricane Laura, which brought widespread destruction to the mostly Black industrial area around Mossville, causing chemical fires and turning  Lake Charles into a toxic soup. The displacement and continued housing shortage caused by Laura worsened the spread of Covid in the area.
The displacement caused by Ida in New Orleans could be even worse. Hospitals in Louisiana are already filled with over 2,400 patients with coronavirus. There were not enough empty beds in the state to evacuate patients from New Orleans hospitals. Staff in one hospital reported having to manually pump air into the lungs of intubated Covid patients as they moved them to a floor with a working generator.
Aftermath
After passing through New Orleans, Ida was still a major storm, causing deadly flooding from the Louisiana coast to Tennessee and up the east coast. On the way it sparked tornadoes in three states, and killed close to 50 people in the Northeast. In New York City a state of emergency was called after a new record rainfall (although many poorly paid essential workers braved the storm). A majority of those killed by the storm in NYC, many of them immigrants, were drowned in illegally rented basement apartments.
The IPCC report predicted that heavy rains and flooding is slated to increase in the Northeast for years, while the West of the US will face a related increase in droughts and fires.
Hurricane Katrina warned us not only of extreme weather, but of local and federal negligence and the deadly effects of racism. After Katrina, the levees in a gentrifying New Orleans were improved, and thankfully withstood Hurricane Ida. But, as one New Orleans doctor noted, "the system is less ambitious than the one Louisianans lobbied for after Katrina, and the protection it offers grows weaker every day, as the wetlands that buffer the city from the Gulf of Mexico get wetter." Over-all, the Katrina disaster was used to push privatization and displacement, not improvement in the social infrastructure. Economic inequality continued to rise along with the sea levels; racism and fossil fuel emissions continued to grow.
Capitalism is causing this climate chaos, as well as the inequality which means black and poor people, who contribute less to climate change, pay the highest price.
The Fight Ahead 
The UNITE HERE union put out a statement on Hurricane Ida that rightly concluded "Climate justice is an economic and racial justice issue, and as a labor movement we know how to bring people together in moments of crisis, and we know how to build a movement that can accomplish extraordinary change…  together we must act—not just to provide relief but to tackle the underlying causes of climate change that put people at the economic margins worldwide in the greatest jeopardy." We must all build a large and militant climate movement, and involve the unions in a way that puts these words into action.
We must demand that massive "infrastructure" spending be targeted, not at assisting the profits of American business, but at protecting the most vulnerable from what are now the inevitable effects of climate change.
Crucially, we must also fight to stop further carbon emissions, which are worsening these effects and driving us to catastrophe, and rebuild in a just, ecologically sustainable way. But this means taking on all the priorities of capitalism and fighting for a different system based on human needs and solidarity.
Disclaimer: Opinions expressed in articles are the author's and do not necessarily reflect the views of other members of the Global Ecosocialist Network