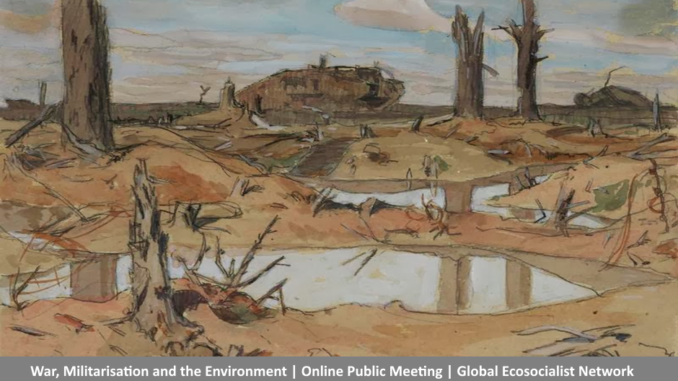 Global Ecosocialist Network
Online Public Meeting, Sunday 10 April (15.00 UTC)
War, Militarisation and the Environment
For both the mainstream media and politics and for much of the climate justice and ecological movement the question of war and the question of the environment seem to exist in separate boxes. Governments routinely pledge to tackle the climate emergency and simultaneously to increase military spending without seeing ay contradiction or being held to account.
In reality war and militarisation have devastating environmental consequences as the Ukraine War clearly demonstrates. In this meeting our speakers will challenge this false separation and explore the devastating environmental impacts of war.
Speakers:
Kathrin Vogler (Die Linke, Deputy in the Bundestag, Germany)
Brian Champ (Climate Justice and anti-racist activist in Toronto)
For zoom link and more details see:
https://www.facebook.com/events/4783590808432973?ref=newsfeed
PLEASE SHARE THIS EVENT AND INVITE FRIENDS AND COMRADES.
Disclaimer: Opinions expressed in articles are the author's and do not necessarily reflect the views of other members of the Global Ecosocialist Network