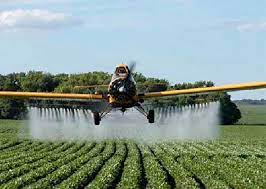 Subverta Coletivo, Brazil reports
BRAZIL'S SUPREME FEDERAL COURT MAY OVERRIDE LAW THAT PROHIBITS OVERHEAD SPRAYING OF PESTICIDES
The Supreme Federal Court (STF), the highest court of Brazilian justice, has started the judgment of the Direct Action of Unconstitutionality (ADIN) no. 6137. In this action, the National Confederation of Agriculture (CNA) asks that a state law in Ceará (law 16.820/19, also called Zé Maria do Tomé), which prohibits aerial spraying of pesticides, be declared unconstitutional.
In force since 2019, the law was the result of a collective construction involving institutions for the defence of the environment and public health, universities and social movements; and it became an important victory for the agro-ecological struggle. Since then, the "poison rain" – which causes so much harm to small communities and rural workers – has been prohibited in Ceará.
The ADIN is an offensive by sectors linked to agribusiness, which want not only to overturn the Ceará law but also to prevent other states from adopting the same legislation. The law, however, has already been the subject of favorable opinions, both from a technical and legal point of view, from institutions such as Fundação Oswaldo Cruz, Federal University of Ceará, Federal Public Ministry, Brazilian Association of Collective Health (Abrasco), among many others.
Numerous studies alert to the relationship between pesticides, environmental contamination and diseases, in particular cancer. The use of pesticides – especially through the aerial spraying technique – also accounts for the incidence of numerous other health and environmental problems: congenital malformations, endocrine changes, contamination of soil and water sources, etc.
In Europe, the European Parliament has restricted aerial spraying of pesticides in European Union (EU) countries since January 2009. There, this type of spraying only happens in exceptional cases, with authorization from Organs competent bodies. The Ceará law, therefore, updates the state in relation to what is most modern in terms of environmental legislation and collective health norms.
It is essential to mobilize in defense of the Zé Maria do Tomé law. It is urgent to join efforts and denounce the attacks promoted by agribusiness. If the law is declared unconstitutional, this will have a knock-on impact on other local struggles and initiatives to restrict aerial spraying of pesticides. We cannot go back to living with the "poison rains" and all the social and environmental damage they bring.
We want the production of healthy food that is not harmful to the environment, workers and rural communities.
Disclaimer: Opinions expressed in articles are the author's and do not necessarily reflect the views of other members of the Global Ecosocialist Network