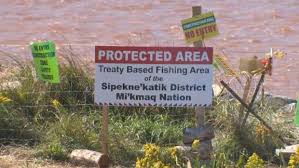 At the Global Ecosocialist Network members meeting on 25 October we voted to issue a statement of solidarity with the struggle of the Mi'kmaq First Nation to defend their fishing rights. (thanks to Martin Empson for proposing this and drafting the statement). 
We also publish below an article on the subject by GEN member, Carolyn Egan 
Dear sisters, brothers and comrades
We are writing on behalf of the Global Ecosocialist Network (http://www.globalecosocialistnetwork.net/) to offer our solidarity and support for the Mi'kmaq nation in their struggle to defend their historic fishing rights, rights affirmed by the Supreme Court of Canada in 1999.
We deplore the argument that the actions of Mi'kmaq fishers are anti-environmental. Those responsible for the destruction of fish stocks of Newfoundland and elsewhere are the huge corporate interests driving species to extinction in the name of profit. We believe that the historic treaty rights of the Mi'kmaq nation to catch lobster are not comparable to the systematic destruction caused by corporate interests.
As socialists and environmentalists, we know that there can be no environmental justice without justice for all those oppressed by a system that puts profit before people and planet. Indigenous people in Canada, and elsewhere around the world, have faced centuries of oppression and violence at the hand of colonial powers. The legacy of that violence continues today with the racist abuse, arson and physical attacks on those defending their rights.
We are inspired by the way you have stood up to this violence and encouraged by the solidarity your cause has received.
We will publicise news of your struggle among our members and affiliated organisations and we send you our wholehearted solidarity.
Action alert: Support Mi'kmaq Treaty Rights & Livelihood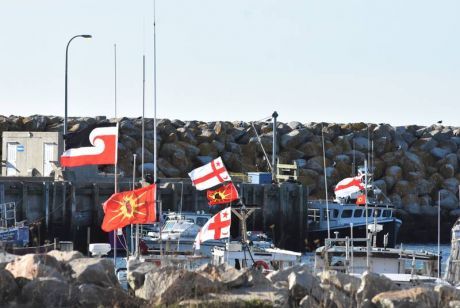 Carolyn Egan
This article was first published here  http://www.socialist.ca/node/4200
"Systemic Racism At Its Finest." – Chief Mike Sack of Sipekne'katik First Nation
Members of the Sipekne'katik First Nation have been under constant racist harassment and attack since they started exercising their historic fishing rights on September 17th. On that day they launched their boats and started putting out lobster traps, a right that had been affirmed by the Supreme Court of Canada in the 1999 Donald Marshall decision.
White commercial lobster fishers in the area start protesting. Numbers of them have caused damage to boats, traps and pounds, throwing rocks at buildings where lobsters were being stored, trapping people inside and assaulting them. One pound was burnt to the ground. They are claiming that the Mi'kmaq are depleting the lobster stocks by putting out pots before the official season begins.
This has been refuted by experts including Megan Bailey of the Maritime Affairs Program at Dalhousie University. The Sipekne'katik First Nation issued seven licences for fifty traps each, for a total of three hundred and fifty. There are approximately 1,000 white commercial lobster fishers licensed on the south west tip of Nova Scotia with an average of three hundred and fifty traps each. All the Indigenous licenses together are the equivalent of one commercial boat. The lobster stocks are thriving. The Department of Fisheries acknowledges that the Indigenous fishery is not a conservation issue and that, "First nations have a treaty right to fish".
The Federal government has abdicated its responsibility. Not only has it allowed the RCMP to stand idly by while these attacks were taking place, but did nothing to deal with the potential of violence before it occurred. It was no secret that the Sipekne'katik people were taking to the waters to begin lobstering, exercising their ancestral prerogative. The "lobster wars", as they have been called, have been going on for two decades since the Supreme Court decision, and the government has done nothing to recognize Indigenous peoples' connection to the land and water and protect their rights and interests. Chief Mike Sack called it, "Systemic racism at its finest."
Merv King, an Algonquin activist said to me, "The recent raids on Indigenous fishing facilities is a direct assault on the Mi'kmaq people with strong racial under tones. Acts of violence including the burning of boats and vehicles, the destruction of facilities, physical assaults, threats and intimidation must end before there is loss of life…the RCMP witnessed criminal activities and turned a blind eye". Indigenous peoples across Turtle Island are speaking out. Perry Bellegarde of the Assembly of First Nations said, "The First Nations will not be bullied off the water in this thuggish manner".
The Nova Scotia Federation of Labour has made a statement in support of the Sipekne'katik First Nation. The president of Local Nine of the Maritime Fishermen's Union, Joel Comeau from the Acadian fishing village of Metaghan, has resigned because of the actions of some of its members. He and Chief Mike Sack had initiated discussions to deal with what had been happening, and then he himself was harassed by racist elements. He was quoted in the Toronto Star saying, "My wife and I decided that the family was going to come first and that we were no longer going to support intimidation and vandalism and threats. So we are stepping down to take care of myself and my family's health." Acadian organizations have also spoken out against the violence, which has to stop now.
Restaurants in a number of provinces have said they will boycott the Nova Scotia fishery until Indigenous people receive justice. Sipekne'katik members brought lobsters into the city of Halifax selling them to local residents to support their struggle. Hundreds of people lined up, socially distanced,  showing their solidarity by buying them all. Demonstrations have also been held showing strong support.
Idle No More has called a National Week of Action from Monday October 19th through Friday October 23 in support of the inherent right to fishing. "The Mi'kmaq prople are requesting that Indigenous Nations and allies alike take action to amplify the calls for justice in Mi'kmaq territory… Mi'kmaq land defenders are requesting that people lift their pipes and light their medicines and are calling for groups to gather in support of Mi'kmaq inherent rights." All out in solidarity!
For more information and links to solidarity actions see: https://idlenomore.ca/support-mikmaq-treaty-rights-and-livelihood/
Disclaimer: Opinions expressed in articles are the author's and do not necessarily reflect the views of other members of the Global Ecosocialist Network