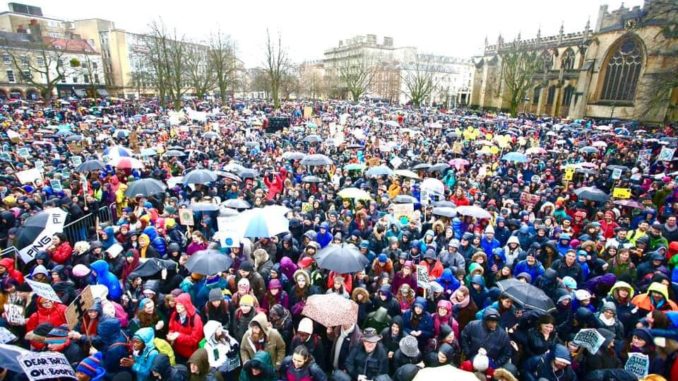 GEN member, HUW WILLIAMS , reports on a magnificent strike and demonstration in Bristol.
Bristol, in the UK, on February 28th saw a massive climate strike. It dwarfed anything the city had seen for generations some say ever! Around 35,000 came out to welcome and march with Greta Thunberg. The vast majority were young people .
Whole schools went on strike and huge numbers of university students were in attendance , happily defying  torrential rain. Relative to the size of the town this is equivalent to 600,000 in London!
The strike was called at short notice when Greta Thunberg liaised with the Bristol climate strikers about coming to visit. Within seven days arrangements were put into place . The local police tried to scare parents by sending every school in the area a letter about the dangers to children at the protest but the climate strikers did not buckle to the pressure and brilliantly held their ground .
Radical placards demanding system change were snapped up and home made placards often echoed similar sentiments .
The leading climate strikers in Bristol include radical socialists who have been able to mobilise large numbers in an insurgent movement . The glaring weakness was the minimal involvement of the organised labour movement . However the feeling in the city is one of being extremely proud of seeing such an excellent response .
Disclaimer: Opinions expressed in articles are the author's and do not necessarily reflect the views of other members of the Global Ecosocialist Network